Determining when and how to use data generated from bioarray experiments can be challenging. To ensure the highest levels of accuracy and relevance, proper measures need to be taken during the experiment design stage as well as after the experiment.
From proof-of-performance through discovery, our team of experienced scientists can help in all aspects of genomic experimental design, including tissue stabilization, RNA isolation, and bioarray usage strategy. Our focus on leading-edge bioarray technology assures that your genomic experiment will generate quality results.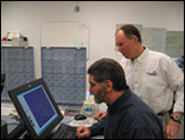 Our senior scientists can get as deeply involved as you need in experiment design. Members of the GenUs management team bring more than 20 years each of genomics research. And, the company's president, Scott Magnuson, was one of the lead developers of the CodeLink™ Bioarray technology while he served as head of gene expression genomics for Motorola Life Sciences (now a part of GE Healthcare).