GenUs BioSystems has experience with all major research species. We also have significant experience in cross species research when full DNA sequencing is not available (for example, hamster and bat). GenUs BioSystems can also help you customize arrays for specific research needs.
Species Availability: Standard arrays are available for the following species. If you do not see what you are looking for here, contact us for the most up to date listing.
Human
Mouse
Rat

Arabidopsis
Barley
Bovine
Brassica
C. elegans
Canine
Chicken
Cotton
Drosophilia
E. coli
Horse
Magnaporthe
Maize
Medicago
Mosquito
Porcine
Rabbit
Rhesus Macaque
Rice
Salmon
Sheep
Tobacco
Tomato
Wheat
Xenopus
Yeast
Zebrafish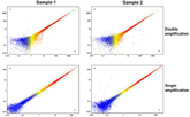 GenUs Biosystems uses GeneSpring software to help demystify the reams of genomic data that gene expression experimentation can generate. In addition to delivering raw data for our clients to analyze, we create easy-to-interpret reports that help them focus on their genes of interest.
Register to receive more information and a Sample Data Report.