We understand the challenges faced by researchers who work with small starting sample amounts. Since sample amounts are very limited and often difficult to acquire, these researchers need to gather the most information possible with the tissue they have. We believe that everyone needs the power of genomics in their discovery programs.
GenUs provides valuable genomic data to researchers with very limited sample amounts (as few as 10 cells or 100 picograms of total RNA). Often, scientists use techniques such as Laser Capture Microdissection (LCM) or fluorescence-activated cell sorting (FACS) to collect specific cells from biological tissue. Typically, such small amounts of RNA are insufficient to achieve accurate bioarray results. GenUs is skilled at generating valuable genomic data from such small amounts on both the CodeLink™ and Agilent™ platforms.
GenUs regularly provides dynamic range of over 5 logs from standard high quality samples. This allows for a greater than 100,000 fold change to be measured vs about a 3 log (1,000 fold) change provided by most labs.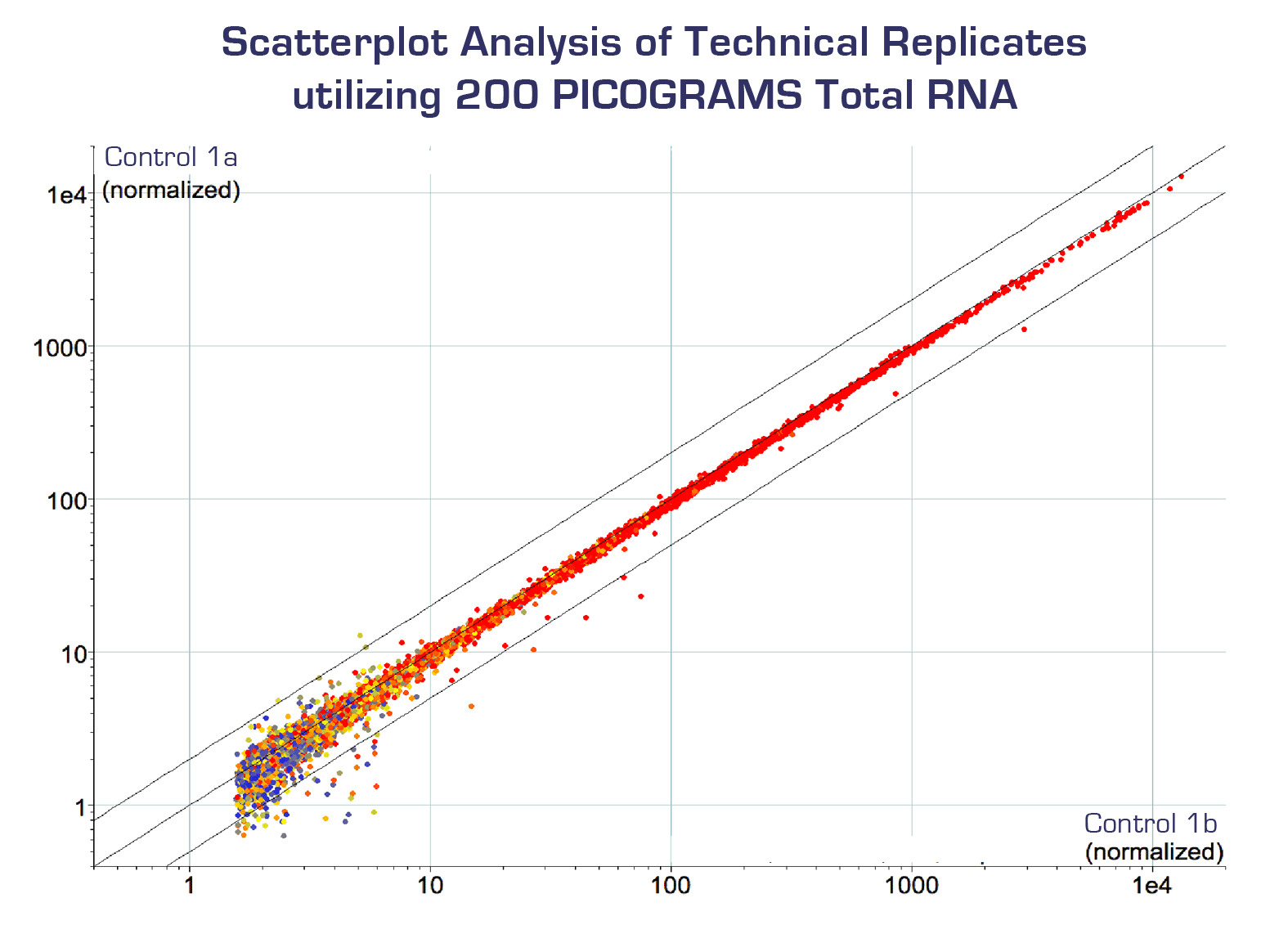 In the above example we started with 200 picograms of total RNA. The same amplified cRNA was hybridized to 2 separate arrays (arrays a and b corresponding to the data on the x and y axis, respectively). Genes present (above background) in both technical replicates (7,058-9,108 genes) are shown normalized to the median intensity of each array. Colors correspond to the median value of the gene for the entire experiment. Red=High expression, Yellow=Medium expression, Blue=Low expression
Contact us to see a complete description of this study including our ability to identify differences between very small treated and untreated samples.