CodeLink BioArray Platform
GenUs utilizes both the Agilent Technologies Platform and the CodeLink™ Bioarray platform as well as leading-edge equipment to deliver superior, reproducible results.
We work with all CodeLink™ Bioarrays - Human (55,000, 20,000, and 10,000 genes); Rat (35,000 and 10,000 genes); Mouse (41,000 and 20,000 genes); ADME Rat and custom arrays.
CodeLink™ Bioarray technology enables:
Proprietary 3-D surface technology for improved hybridization
Sensitivity of less than one transcript per cell to detect low abundance genes
Signal reproducibility with observed CV of less than 16 percent to ensure minimal probe-to-target variation
Specificity of up to 90 percent probe sequence identity for superior discrimination of homologous genes
Dynamic range greater than 3 orders-of-magnitude along with greater than 98% of probes within two-fold detectable change -- resulting in more usable data than any other microarray platform.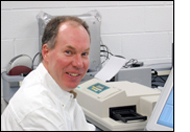 GenUs Biosystems' president, Scott Magnuson, was one of the lead developers of the CodeLink™ Bioarray technology while he served as head of gene expression genomics for Motorola Life Sciences. Dr. Magnuson designed the CodeLink™ Bioarray for superior reproducibility to support sound, hypothesis-driven research programs.