The key to a successful bioarray experiment is high quality RNA and DNA samples. We combine the expertise of our staff with established RNA isolation methods to take small amounts of cell and tissue samples and generate gene expression data upon which researchers can draw sound conclusions. Because tissue samples for genomic analysis are often small and irreplaceable, we help ensure maximum RNA recovery and quality gene expression data by applying strict protocols for the handling and treating of tissues prior to isolation.
Our RNA isolation service offers researchers an effective alternative to performing this delicate step in the gene expression profiling process in their own lab.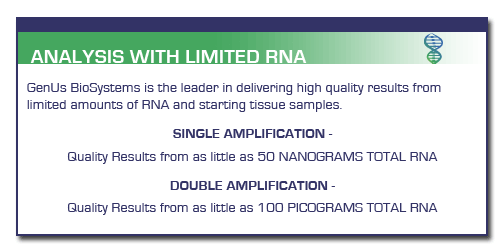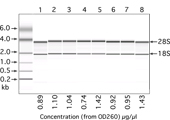 To ensure the highest quality results, GenUs BioSystems uses the most advanced RNA Isolation technologies available. Our researchers are experts in isolating RNA from small or large tissue samples. And our proprietary protocols and processes can further help ensure that gene expression experiments are run using high-quality RNA.