GenUs BioSystems continually conducts internal research to optimize microarray experiments and gene expression analysis. We were a partner in the 2006 FDA MAQC study using techniques that provided the most reproducible and precise results of the labs participating. We utilize multiple technologies and analytic strategies to meet the needs of individual experiment objectives.
Agilent Technologies Microarrays »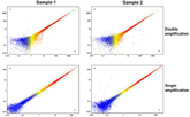 GenUs Biosystems uses GeneSpring software to help demystify the reams of genomic data that gene expression experimentation can generate. In addition to delivering raw data for our clients to analyze, we create easy-to-interpret reports that help them focus on their genes of interest.
Register to receive more information and a Sample Data Report.